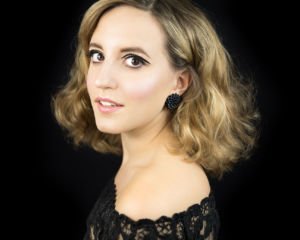 Emily Pogorelc was well on her way toward realizing her remarkable potential as an opera singer when Schmidt Vocal Arts first met her in 2012. At the time, Emily was a high school senior from Milwaukee, Wisconsin. She had already racked up a slew of other awards in her nascent career and had her sights set on attending one of the nation's premier conservatories or music schools.
The Schmidt Experience
"The Schmidt Vocal Competition helped by giving me an excellent reason to start preparing well, even in the infancy of my singing career," Emily explains. "The preparation it took to get ready for the competition was a building block for how I prepare now: first carefully translating the music and thinking about effective programming."
Her hard work for the Schmidt Vocal Competition paid off. She wowed the judges with an expressive performance of "Du gai soleil" from Massenet's opera, Werther and won first place.
"Three things stick out to me from that experience even today: first, the opportunity to perform music for a panel of educated judges and receive their constructive and helpful feedback. Second, the opportunity to meet people who would become my future colleagues. I still keep up with some of the amazing singers I met through Schmidt! And finally, of course scholarship money is always nice, but I remember I was most excited to perform a new aria and get constructive criticism before my college auditions."
Emily credits her Schmidt experience as one of the stepping stones that helped her land a coveted spot at her dream school, Curtis Music Institute.
"Schmidt Vocal Arts gave me the encouragement to keep going. Putting the competition on my resume was extremely helpful. When I went to apply for college, the administrators and teachers saw that I had sought out these opportunities for myself and was rewarded for my work. Especially in the competitive process of applying to music schools, it is important now to have everything— not only dedication to the craft, but also a hard work ethic, a go-getter attitude and willingness to receive good and bad feedback."
Concerts and Operas and Competitions, Oh My!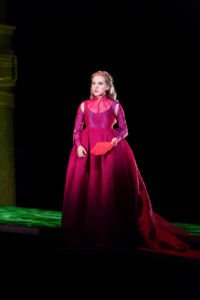 Today, Emily continues to wow audiences around the world. She is currently an ensemble member of The Patrick G. and Shirley W. Ryan Opera Center at Lyric Opera of Chicago, giving her the opportunity to perform numerous roles and repertoire. She made her Washington National Opera debut in 2018 as Cunégonde in Francesca Zambello's production of Candide. She was a participant in the Mozart Residency at the Aix-en-Provence Festival. As a young artist at The Glimmerglass Festival, Emily starred in Handel's Xerxes, where she "found a tragic nobility in Romilda and her elegant, poised vocal impersonation was an aural delight" (OperaCanada).
And Emily continues to win prestigious singing competitions, including The Ginette Theano Prize for Most Promising Talent, and was the youngest finalist of the first ever Glyndebourne Opera Cup. She received first prize in The Carolyn Bailey and Dominick Argento Vocal Competition, first place in the Hal Leonard Art Song Competition, a grant from the Gerda Lissner/Liederkranz Foundation's Lieder/Art Song competition, and an Emerging Artist Award from Opera Index. In 2017, she took second place in the Upper-Midwest Region of the Metropolitan National Opera Council Auditions. She has also won first place in numerous competitions, including Classical Singer Magazine Competition, The American Prize, and Wisconsin Conservatory of Music Art Song Festival. She is the 2014 Gold Award winner in the Classical Voice division at NFAA YoungArts and in June 2014, she was featured on National Public Radio's, "From the Top."
Emily is just one example of the talent among our Schmidt Vocal Arts alumni. We look forward to following her continued success.