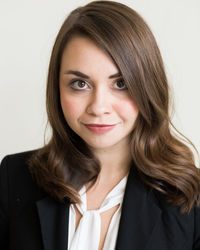 Autumn West is a lyric soprano hailed as "clear and precise, with extraordinary detail and elevation" (The Oklahoman) with a wide-ranging career as an artist-educator, performer, administrator, and activist. West's professional engagements have seen her perform with organizations such as Cincinnati Opera, the Oklahoma City Philharmonic, Canterbury Voices, Sugar Creek Opera, Grant Park Music Festival, Painted Sky Opera, and the Chamber Orchestra Kremlin from Moscow, among others. Current projects include Ned Rorem's epic cycle Evidence of Things Not Seen, to be presented on the 2021 Texoma NATS Conference Artist Series, as well as a project creating inaugural recordings of contemporary works for clarinet and soprano by composers such as Adolphus Hailstork, Joyce Hope Suskind, and Stella Sung.
In addition to her performing, West is a committed music educator, currently serving as Assistant Professor of Voice at the Wanda Bass School of Music at Oklahoma City University. She is also the voice area coordinator and voice faculty for the summer voice programs at Interlochen Arts Camp. Internationally, West has taught intensives on Musical Theater technique and style with students at the Tianjin Conservatory of Music in Tianjin, China. She participated in the prestigious NATS Internship in 2018, and in 2019 was recognized by Oklahoma City University as a finalist for the annual Excellence in Teaching Award.
West is an activist and advocate and believes in the ability of the arts and education as a vehicle to create empathy and meaningful societal change. She serves as faculty advisor for OCU CARE (Creatives for Artistic and Realistic Equity), an organization dedicated to providing educational resources for the campus community and advocating for marginalized populations. She has presented this work to university music programs interested in advocacy across the country, and in 2021 was recognized as the winner of Oklahoma City University's Faculty Award for Distinguished Service. She also serves on the Representation, Equity, and Inclusion committee for the Music Theater Educators Alliance (MTEA).
An active arts administrator, in 2013 West co-founded Cincinnati Chamber Opera, a company devoted to showcasing rarely-performed operatic gems in non-traditional venues, presenting opera in a current, accessible, and relevant way. She served as Executive Director for this organization until 2019.
West received her Bachelors degree from Northwestern University and her Masters and Doctoral degrees from the University of Cincinnati College-Conservatory of Music. Her Doctoral degree includes specializations in arts administration and vocal pedagogy.