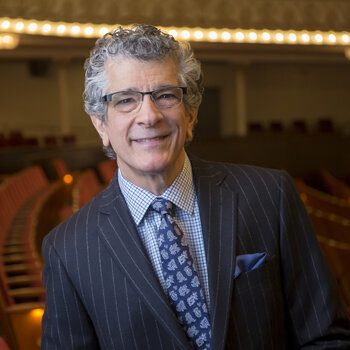 Evans Mirageas is in his seventeenth season as The Harry T. Wilks Artistic Director of Cincinnati Opera. Widely considered one of the most talented and respected artistic leaders in the classical music industry today, Mirageas brings to Cincinnati Opera a broad range of experience in both opera and symphonic music, as well as a long history of successful partnerships with many of the world's leading singers and conductors.
Mirageas's varied career in classical music has included radio production with the nationally renowned WFMT radio station in Chicago, Artistic Administrator to Seiji Ozawa at the Boston Symphony, and Senior Vice President of Artists and Repertoire for the Decca Record Company. In addition, he is an award-winning record producer, lecturer, interviewer, presenter, and awards panelist. From 2012 to 2018, he served as the Vice President for Artistic Planning for The Atlanta Symphony. Since 1999, Mirageas has served as an independent artistic advisor to conductors, instrumentalists, sing­ers, symphony orchestras, opera companies, and other performing arts organizations throughout the United States and Europe.
The thread of opera runs throughout Evans Mirageas's career. Like many other Americans, his early exposure to opera was through recordings and the Metropolitan Opera broadcasts. A Detroit Opera Theater production of Boris Godunov in 1974 with Jerome Hines was his first exposure to professional live opera, followed soon thereafter by regular attendance at Metropolitan Opera productions on tour in Detroit and, starting in 1980, in New York. Among his earliest opera experiences was his first visit to the Cincinnati Opera in 1978 to see Verdi's Macbeth with Sherrill Milnes in the title role.
Very soon after joining the staff of radio station WFMT in Chicago, Mirageas produced the historic 1983 international broadcast live from the Bayreuth Festival of Sir Georg Solti's only appearances at the Wagner festival. The following autumn he began working with Norman Pellegrini and Lois Baum, the producers of the Lyric Opera of Chicago internationally syndicated broadcasts. For seven seasons, Mirageas attended rehearsals and performances, recorded interviews, and eventually produced the broadcasts himself. In this time he observed closely the "golden era" of Ardis Krainik at the Lyric.
In 1989, Evans Mirageas was appointed Artistic Administrator of the Boston Symphony. Seiji Ozawa hired Mirageas, in part for his operatic expertise. Ozawa programmed fully-staged opera and opera scenes in Symphony Hall and Tanglewood nearly every season. While in Boston, Mirageas cast and supervised the production team for Tchaikovsky's Pique Dame (also recorded live for RCA), Strauss's Salome, Verdi's Falstaff, and Mozart's Idomeneo with all-star casts including Mirella Freni, Dmitri Hvorostovsky, Hildegard Behrens, Frederica von Stade, Frank Lopardo, Dawn Upshaw, and Benjamin Luxon, among others.
When he was appointed Senior Vice-President for Artists and Repertoire of the Decca Record Company in London, England in 1994, Evans Mirageas inherited a stellar roster of opera singers and conductors under exclusive contract to the label. For the next seven years he supervised opera recordings conducted by Sir Georg Solti, Christoph von Dohnanyi, Riccardo Chailly, and others with singers Luciano Pavarotti, Cecilia Bartoli, Bryn Terfel, Renée Fleming, Angela Gheorghiu, Plácido Domingo, Thomas Hampson, Ben Heppner, René Pape, Karita Mattila, Barbara Bonney, and more.
Since 2000, Evans Mirageas has been an independent consultant and in this time has cast opera productions for Semyon Bychkov, the Music Director of the WDR Cologne. Many of these concert productions have been recorded for commercial release, including Strauss's Daphne with Renée Fleming (October 2005 release on Decca) and Strauss's Elektra with Deborah Polaski (fall 2005 release on Hänssler) and Wagner's Lohengrin with Johan Botha (fall 2009 release on Hänssler).
For the Milwaukee Symphony, he developed a concert performance production of Humperdinck's Hansel and Gretel with Susanne Mentzer and Heidi Grant Murphy in the title roles. It was nationally broadcast by NPR and is now commercially available on AVIE. It is the first English-language recording of the work in nearly 50 years.
In his work as Artistic Advisor to the Brooklyn Philharmonic and the Brooklyn Academy of Music, he has cast productions of Mozart's Così Fan Tutte, Cimarosa's Il Matrimonio Segreto (Jonathan Miller, dir.), Adams's The Death of Klinghoffer, and the revival of the staged version (Jonathan Miller, dir.) of the Bach St. Matthew Passion.
In autumn 2004, Evans Mirageas was engaged by the Los Angeles Opera and the Lincoln Center Festival to serve as casting director for the new Eliot Goldenthal/Julie Taymor opera Grendel, which had its world premiere production in summer 2006 in Los Angeles and New York.
For the Handel and Haydn Society in Boston he assisted in the development of an exciting multiyear project of the three Monteverdi operas and the 1610 Vespers, which was co-produced by the Handel and Haydn Society and the English National Opera with the celebrated Chinese director Chen Zhi-Zhang. The first opera to be produced in the cycle—Orfeo—premiered in autumn 2006 in London and then Boston. Haydn's Orfeo with Sarah Coburn and Christopher Maltman, with Sir Roger Norrington conducting, followed in February 2009.
In January 2005, Cincinnati Opera engaged Evans Mirageas as Artistic Advisor to assist in the planning of the 2006 and 2007 seasons while the search was underway for a new artistic director of the company. In July 2005, he accepted Cincinnati Opera's invitation to become Artistic Director and officially took up the post in September 2005.
In recognition of his remarkable contributions to the opera world, Opera News magazine listed Mirageas among its "25 Most Powerful Names in U.S. Opera" in its August 2006 issue.
Evans Mirageas was guest faculty at the 2018, 2020, 2021, & 2022 Schmidt Vocal Institute.