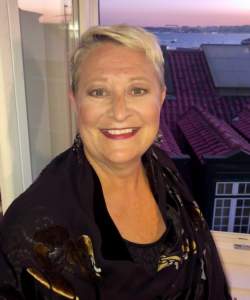 Mezzo-soprano Mari Opatz-Muni has been a voice professor at Miami University for the past twenty-three years. During this time, she also was the Director of the Miami Opera Program and producer from 1998 through 2012. During her tenure, the opera was selected to receive two highly coveted national awards from the National Association of Opera (NOA). For the past six years at Miami, she has been the Chair/Coordinator of the voice area. Ms. Opatz-Muni has appeared with numerous opera companies in the United States and Europe including Houston Opera, where she was in the original cast of the world premiere, Nixon in China by John Adams. The audio recording won a Grammy Award and the opera's national PBS television broadcast was honored with an Emmy. In addition, Ms. Opatz-Muni has appeared with such companies including the New York City Opera, Santa Fe Opera, Atlanta Opera, Portland Opera, Tulsa Opera, Chautauqua Opera, Dallas Lyric Opera, The New Israeli
Opera, Toledo Opera, Des Moines Opera, and Mobile Opera. Along with the Emmy and Grammy, Ms. Opatz-Muni is the recipient of other prestigious awards, including grants from the William Matheus Sullivan Foundation, the National Institute for Music Theatre, the National Federation of Music Clubs, and the Beethoven Club. She was a semifinalist in the Metropolitan Opera auditions in both New York City and in her home state of Iowa.
Mari Opatz-Muni is Resident Faculty at the Schmidt Vocal Institute.