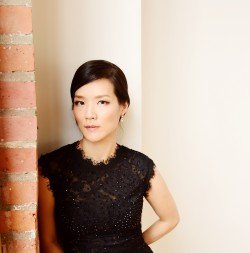 Acclaimed by Opera News as being "among the top accompanists of her generation," and "…a
colouristic tour de force" by The New York Times, Grammy® Award-nominated pianist Myra
Huang is highly sought after for her interpretation of lieder and art song as well as her depth of
musicianship and impeccable technique. Huang is invited regularly to perform throughout the
U.S., including Carnegie Hall, The Mostly Mozart Festival at Lincoln Center, The Walt Disney
Concert Hall in Los Angeles, The Kennedy Center, and The 92ndSt Y. Huang was chosen as
the recipient of The Samuel Sanders Collaborative Artist Award for 2019 by The Classical
Recording Foundation for her consummate artistry. Regular collaborations include recitals with
Lawrence Brownlee, Eric Owens, Angela Meader, Sasha Cooke, Will Liverman, Joshua
Hopkins, Nicholas Phan, and Susanna Phillips.
Huang is an avid recitalist and recording artist. She is a two-time Grammy nominee for her
albums "Gods and Monsters" and "Clairières" with tenor Nicholas Phan on the Avie label.
Huang is the Head of Music for the Lindemann Young Artist Development Program at The
Metropolitan Opera, mentoring and scultping the highest talent in the upcoming generations.
Additionally, she is Head Coach at The Aspen Music Festival, as well on the faculty of the
Collaborative Piano department at The Manhattan School of Music. Huang is a Steinway Artist.