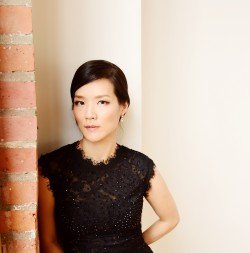 Acclaimed by Opera News as being "among the top accompanists of her generation," and "…a colouristic tour de force" by The New York Times, Grammy® Award-nominated pianist Myra Huang performs in recitals and chamber music concerts around the world. Highly sought after for her interpretation of lieder and art song as well as her depth of musicianship and impeccable technique, she regularly performs with acclaimed opera singers around the world. This year she performs recitals throughout the U.S., including The Philadelphia Chamber Music Society, The Walt Disney Concert Hall in Los Angeles, The Kennedy Center, Interlochen Music Festival, Hill Auditorium at the University of Michigan, and The Mostly Mozart Festival at Lincoln Center. Her recital with tenor Lawrence Brownlee at Carnegie Hall was chosen by WQXR as one of 2018's best classical recitals of the year, and is being presented with The Samuel Sanders Collaborative Artist Award for 2019 by The Classical Recording Foundation for her consummate music
Huang has served on the music staffs of the Washington National Opera, Houston Grand Opera, New York City Opera, and The Palau De Les Arts in Valencia, Spain. She worked closely with director Lorin Maazel and Zubin Mehta as an assistant conductor at the Palau De Les Arts. From 2011-2013, she served as the Head of Music Staff at New York City Opera. She is a staff pianist for the Operalia competition, directed by Placido Domingo, performing at opera houses around the world such as Teatro alla Scala (Milan), The Royal Opera House (U.K.), The National Centre for the Performing Arts (Beijing), and Teatro Real (Madrid). She regularly teaches at young artist programs throughout the U.S. to train young opera singers and pianists, including Music Academy of the West and the Houston Grand Opera Studio, and is on the music staff of The Steans Institute at Ravinia. She joined the music staff of the Metropolitan Opera Lindemann Young Artist Development Program in the 2019-20 season.
Huang is an avid recitalist and recording artist. Her recordings have received critical acclaim from the New York Times, Gramophone UK, Opera News, and The Boston Globe. Her recent album Gods and Monsters with tenor Nicholas Phan was nominated for the "Best Classical Vocal Solo Album" category at the 2018 Grammy® Awards. Of this album, Opera News stated that "Huang matches the tenor with pianistic arsenal of colors and attacks, controlled by her astonishing technique." Her most recent album, Illuminations on the Avie label with tenor Nicholas Phan, and also the award-winning Telegraph Quartet and the chamber ensemble The Knights, has been released to critical acclaim anew. Other albums include Winter Words and Still Falls the Rain on the Avie label with Nicholas Phan, and Paysages on the Bridge label with soprano Susanna Phillips, all released to critical acclaim. Huang is a Steinway Artist.